Legacy Token
GOLD
PRESERVED IN
NATURE'S VAULT
Introduction
Legacy Token
Each Legacy Token, which will trade with the ticker NVLT, is backed by NaturesGold™, the preservation of at least 1/100th of a gram of in-ground gold in deposits quantified by independent experts and controlled through Mining Rights owned by Nature's Vault.
Real GoldEach Legacy Token is linked to real in-ground gold, quantified by either JORC or NI 43-101 technical reports.
Real ImpactLegacy Tokens are a pioneering climate tech asset class, backed by real positive impacts on the environment.
Real StakeLegacy Token holders have the opportunity to participate in a generous staking program that rewards token holders with additional Legacy tokens and exclusive access to future Nature's Vault projects.
Real GrowthFrom the initial proceeds of Legacy Token sales, Nature's Vault commits to acquiring control over approximately one million troy ounces of gold deposits and to link the preservation of this additional gold to each Legacy Token minted by the conclusion of our Resource Acquisition Program.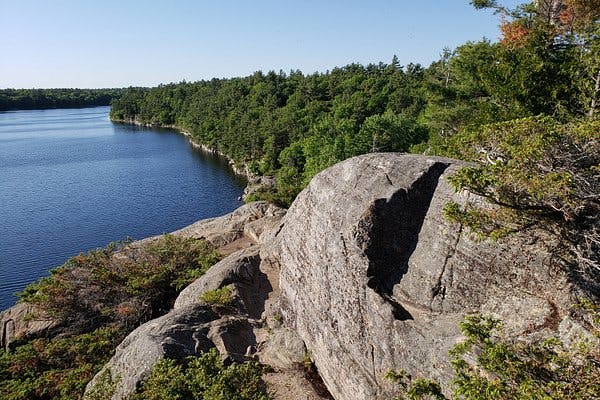 Our First Deposit
Pistol Lake
Pistol Lake is the first gold deposit acquired by Nature's Vault. It covers 400 acres of forests and lakes in the Thunder Bay area of Ontario and comprises approximately 125,000 Troy ounces of Gold.
IMPACT

The Future
Why Do We Need to Mine?
Gold in
An Open Mine
The global mining industry is responsible for 4-7% of global GHG emissions; the industrial activity needed to mine just one ounce of gold releases on average 800 kg of CO2.
Every year, global mining companies dump more than 180 million tonnes of hazardous mine waste into rivers, lakes and oceans worldwide.
For gold mining, 99% of mined ore is discarded as waste.
Despite the enormous environmental cost, roughly 50% of gold mined annually is simply stored away in bank vaults.
Gold In
Nature's Vault
NaturesGold™ prevents the release of direct and indirect GHG emissions from the activities of the mining industry.
The preservation of NaturesGold™ protects local biodiversity, waterways, and surrounding communities from the effects of mining.
Instead of waste, the positive impacts of in-ground preservation can be quantified by industry standard organizations in the form of carbon credits
NatureGoldTM is tradable through the Legacy Token and spares the planet from the environmental impacts of real-world and cryptocurrency "Proof of Work" mining.
The Journey
Our Roadmap
Private Sales of Legacy Tokens are already underway, after which we will launch a Pre-Sale round, both being administered on our proprietary sales platform.
Happening Now
Community Engagement and Marketing, Pre-sales, Application Submission , Due Diligence, and Launchpad; Pistol Lake Deposit Acquired
28 September 2022
NVLT Pre-Sale Starts at Token2049 Singapore
21 November 2022
Public Sale & Exchange Listing
The Future
Building on the expected success of our initial Legacy Token Series 1 offering, we plan to structure progressively larger Legacy Token offerings. We may also extend the concept to other in-ground precious metals. Our ultimate goal is to evolutionize the mining industry by substantially reducing the amount of non-industrial use metals mined.
VISION
Legacy Token
FAQ
What is the Legacy Token?
The Legacy Token represents a trailblazing approach to investing in Natural Capital – the planet's natural resources or assets and the life-sustaining ecosystem benefits they provide. Moreover, Legacy Tokens represent a critically needed net-zero bridge between a dominant real-world store of value - Gold - and the crypto world.
Each Legacy Token is backed by NaturesGold™, the preservation of at least 1/100 of a gram of in-ground gold in deposits quantified by independent experts and controlled through Mining Rights owned by Nature's Vault. We plan to progressively add more Mining Rights and, therefore, gold deposits to the inventory of gold preserved by each Legacy Token.
How is a Legacy Token created?
We apply our team's extensive mining expertise to identify and evaluate Mining Rights with underlying gold deposits in areas of undisturbed natural beauty. We then acquire these mining rights, thus providing legal control over the in-ground mineral deposits.
Once acquired, a dedicated legal entity holds the Mining Rights with a transparent governance framework to ensure the mining rights are unencumbered and maintained in good order. This also ensures that the mining rights are not sold or used to exploit the underlying gold deposits. In essence, we commit within our power as a company never to mine the gold. We refer to this preservation of in-ground gold as NaturesGold™.
A digital representation of this commitment to preserving gold is then minted on the Polygon Blockchain in the form of the Legacy Token. Full details of the Legacy Token (NVLT).
How can I buy and sell Legacy Tokens?
Pre-sales will commence on September 28 2022 on our website. Sign up for the Pre Sale here.
The Public Sale will start on November 21 2022 on multiple global and regional exchanges. Details will be announced soon via our social media and community channels.
What is NaturesGold™?
NaturesGold™ is a commitment to preserve, in the ground, gold deposits quantified by independent experts and controlled by Nature's Vault through ownership of relevant Mining Rights. The amount of gold preserved is quantified by independent 43-101 or JORC Technical Reports. Nature's Vault Ltd will acquire the relevant Mining Rights and hold them under a robust governance structure to ensure the underlying gold is preserved indefinitely.
How do I know Nature's Vault is not selling more gold than they have?
To ensure we never commit to preserving more gold than is present in our deposits as quantified in the relevant 43-101 Technical Report(s), and to build up our reserves of unmined gold, we only tokenize up to 80% of the gold quantified in the relevant 43-101 or JORC Technical Report(s)
What is an NI 43-101 or JORC report?
We rely on the same rigorous standards developed and trusted by investors large and small in evaluating public mining companies. These standards are governed in Canada by National Instrument (NI) 43-101 and in Australia by the Joint Ore Reserve Committee (JORC). The standards define the minimum qualifications, evidence, and analysis required to produce Technical Reports estimating in-ground mineral resource quantities.
The figures quoted in these reports are based on detailed drilling reports and comprehensive, standardized technical analysis. They are validated by professional geological experts, and exhaustively documented. In summary, they are widely accepted as fit-for-purpose and reliable.
We invite investors in Legacy Tokens to review the technical reports supporting the gold deposits we acquire control over, and we will make these available on our website.
Where is Pistol Lake?
The first Mining Rights our experts have identified cover gold deposits across over 400 acres of forests and lakes in central Ontario, Canada. We call our initial acquisition "Pistol Lake", and the Patented Mining Rights we have acquired have no expiry date and cover an estimated 125,000 troy ounces (3.89m grams) of gold. The Pistol Lake Region is located west of Thunder Bay in Ontario, Canada.
How do I know Nature's Vault won't mint more tokens than there is gold?
Because each Legacy Token corresponds directly to unexercised Mining Rights, token issuance and management are critical. Nature's Vault is working with a Tier-One provider of multi-signature security, multi-user policy controls, and advanced security configurations to ensure secure token minting, transfers, and wallet management to ensure that no more than 500,000,000 million Legacy Tokens, with a minimal backing of 1/100th of a gram of NaturesGold™ per token, are ever minted.
What happens if Nature's Vault loses mining rights?
If circumstances arise beyond our control, where we lose title to, or control over, any Mining Rights for gold deposits subjected to tokenization, Nature's Vault Ltd will undertake all reasonable efforts to replenish the unmined gold resources lost with deposits from other gold deposits held in reserve. Therefore, we have established a policy to subject only 80% of preserved gold deposits to tokenization, leaving 20% in a Contingency Reserve.
Can I redeem a Legacy Token for real gold?
No, Legacy Token is not redeemable for gold. Unlike other gold linked tokens, NaturesVault offers a ground breaking proposition whereby the value of gold in the ground is linked to its preservation, not its exploitation.
Does Nature's Vault own the gold?
For our initial Pistol Lake project, we have acquired Mining Rights, which, if exercised, are estimated to result in about 125,000 troy ounces of gold being mined. This equates to the preservation of approximately 3.89 million grams of gold underlying the Mining Rights held by Nature's Vault.
Will the gold ever be mined?
Nature's Vault is committed to not exercising the Mining Rights we hold in custody to exploit the underlying gold deposits. If we are legally compelled to mine the gold, we will only do so when the mining operation, and various production processes, can be performed without carbon emissions, consistent with our corporate net-zero vision.
Sign Up For Our Newsletter
Help Us Change the World